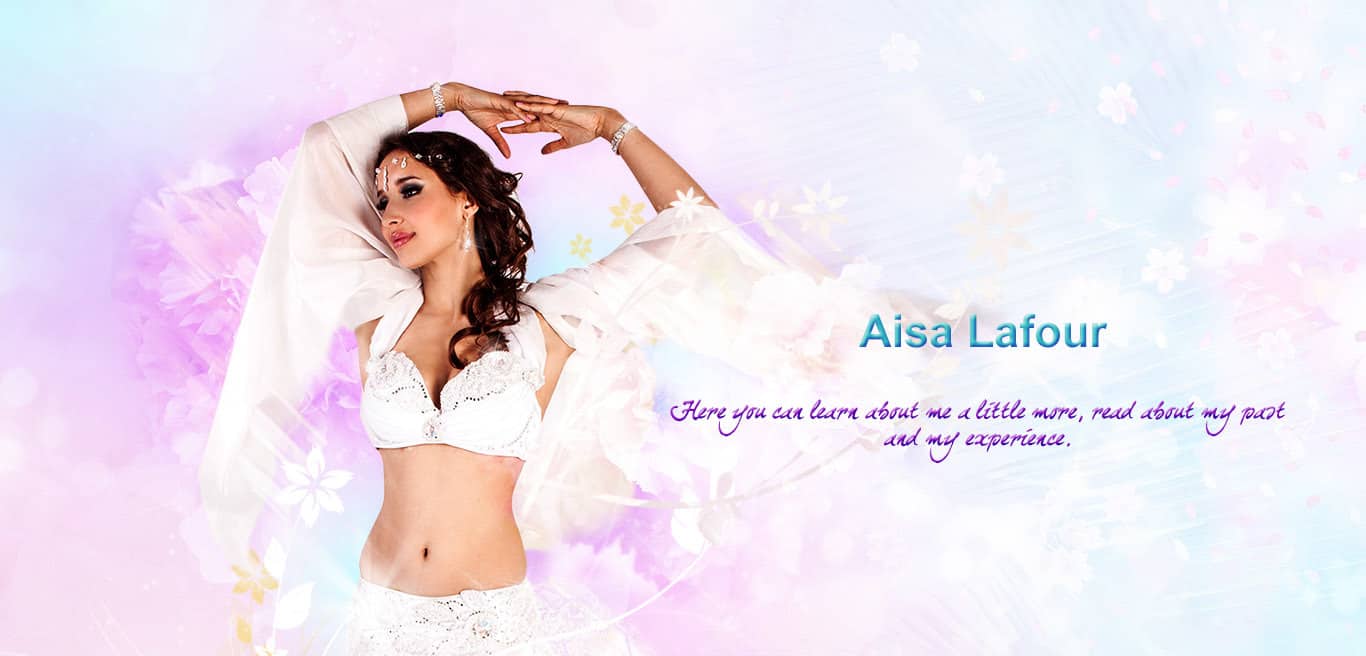 What I love most is sharing my knowledge and helping my students to grow to a higher level of dance and seeing them enjoying the moment and starting to love themselves more each time they dance – Aisa Lafour
Aisa Lafour is a professional bellydancer, instructor, judge on international dance competitions and event organizer. In 2003 she got her fashion degree in design & styling on the Amsterdam Fashion Institute at Hogeschool Van Amsterdam. In 2006 Aisa graduated at the "Kader Opleiding Werelddans" in Rotterdam. Since then she is a diplomated teacher of general- and world dances, specialized in Oriental bellydance and Latin/Brazilian dances. In 2008 Aisa was the nr 1 winner of the contest "Bellydancer of the world 2008" . She is a sought after bellydance artist, known for her sensual elegance, emotion transmission through movement, strong technique, her musicality and her warm relation with her public. Aisa is invited at numerous dance events from around the world, to perform, teach and judge competitions.
She and her teacher Shahrazad organized a big theatre show Cosmic Bellydance show 2008. She was a member of the Baladi dancegroup by Mahdy Emara. Aisa was part of the starcast (solo and chorus) of Jillina's successful international Bellydance Evolution show in 2009 and 2010, with whom she toured in the US, Europe and Morocco. She also had the honor to do the official casting for Bellydance Evolution Europe in Spain.
Aisa is the founder of the Oriental dance troupe: Deyy el Amar Ensemble, with whom she won numerous first prizes: Benelux Chamionship 2012, Dutch Chamionship 2012, Bellydancer of the World category group and formation. With Deyy el Amar Ensemble she is seen as their choreographer and main dancer in the Dutch TV dance show: Everybody Dance Now on RTL 4.
With her team she is the organizer of the annual Orientalicious festival in Amsterdam. She has shared stages with famous dancers like Jillina, Ansuya, Aziza, Sadie, Keishi, Elisabeth strong, Ava Flaming, Mardi Love, Mercedes Nieto, Orit Maftsir, Sharon Kihara, Leyla Jouvana, Randa Kamel, Tito, Shahrazad, Mahdy el Leisy, Mohamed Shahin, and many more. Currently Aisa is an international bellydance teacher and performer herself, and runs her own Amsterdam based, and online school Heartbeat of Bellydance.
As a solo artist she performs at festivals, theatres, television, music video clips and parties, international and national. Countries where she has performed are: Brazil, England, Spain, Italy, Germany, Netherlands, France, Belgium, Switzerland, Austria, Slovakia, Prague, Poland, Hungary, Morocco, Egypt, Us, Brazil, Mexico, Argentina, Singapore and Israel.