I help you to create your own drumsolo choreography and beyond
In 10 weeks you will understand the structure of the drumsolo, the rhythms, drill many challenging drumsolo dance techniques and folklore movements, entrances and endings, the use of the stage, dynamics in creating a choreography and you will work on your dancer's mindset. In this 10 weeks you are able to create your own rich drumsolo choreography or improviastion. This brings you to the next level of dancing and performing.
Do you have these thoughts about creating your drumsolo?
I love the drumsolo, but I don't really know where to start, so I always postpone making a choreography to that great music I have.
I know that there are many Arabic rhythms but I don't know which ones and it's so hard for me to recognize them.
When I listen to drumsolo music I hear so many rhythms and accents at the same time. It makes me confused and I don't know what to follow.
I know quite a few bellydance techniques but I don't know how to bring it together in an interesting choreography.
I don't dare to do a drumsolo because the bellydance movements in a drumsolo are so challenging and need to be so flawless, accurate and isolated. I really need to drill that.
I know that there are specific steps and movements that belong to specific rhythms and folcloric styles, but I don't know exactely what they are.
I already made a choreo to a drumsolo music, but it was quite monotomus, it lacked dynamics and it did not really amazed my audience.
Deep down in your belly, you know that it's time to bring your dancing to the next level, to burst through the limited believes that a drumsolo is too complicated for you to make.
You know that it's time now to really study and understand the art of making a drumsolo.
You know that it's your time now, to step up.
It's time to finally Create Your Amazing Drumsolo.  It's time to bring your own unique dance to the stage and leave your audience deeply impressed by your dance!
I feel you…
you know… I went through all this moments of limiting believes too. I have not been as confident about my drumsolo's as I am nowadays. In the beginning of my dance career I did not even dare to dance to a drumsolo, because I did not know exactely how to do it.
When I made my first drumsolo and finally had the courage to peform it in a show, a girl from the audience wrote me a very critical email the day after. She told me that she didn't understand why people were screaming for me. She said she was not impressed by my drumsolo and asked me who I was thinking who I was to perform that and call myself a bellydancer. She even send me video's of other dancers of who she thought were actually doing a really good job.
You understand that this was a very hurtful moment for me and it put me down for a while. But looking back at it, it was one of the moments that really changed my dancing and my career as a dancer. After founding my strength back I decided to step up my game and level up and prove myself that I had more in me. This girl actually gave me fuel to really dive deep into the knowledge and technique of the drumsolo.
I started to study the rhythms, technique and structure of the drumsolo with great teachers. I started talking to Arabic percussionists about their ideas about how to dance a great drumsolo and started to learn their language of communication with the dancer and the darbuka.
I gathered information from all different places and teachers. After all I cracked the code for myself and created a proven system of how to approach creating a drumsolo dance or doing an on the spot improvisation. Slowly I started to become more confident about it and even started to love improvising with drummers. A while after that email, I created one of my most successful drumsolo choreographies. Nowadays the drumsolo is one of my favorite topics and the audience just loves it.
So, I brought all this knowledge together in an online teaching program, Create Your Amazing Drumsolo to be able to share this knowledge with you. Making it easier for you to understand it all and have a step by step program that teaches you how to create your own amazing choreography or do an on the spot improvisation.
With Create Your Amazing Drumsolo you…
Take action on making your choreo beause there is a community that holds you accountable for your progress.
Learn the Arabic Rhythms and you are able to recognize them.
Know where to listen to in the drumsolo and know where to dance to. You understand the the structure of the music and the different layers that you hear.
Bring your dance techniques together in a dynamic and surprising choreography or improvisation.
Drill challenging drumsolo dance technique like pops & locks and shimmy's, with easy to follow video's.
Know what type of steps to do to specific sounds and rhythms.
Dance the correct folkloric steps to specific folkloric styles and rhythms.
Make an unforgetable entrance and exit with your dance to leave the best impression with your audience.
Since 2003, I am a professional bellydance artist and a passionate dance teacher. In 2008 I won the prestigious title: Bellydancer Of The World. My dancing brought me to stages and festivals all around the world. I was a first generation troupe and solo dancer,  at Jillina's Bellydance Evolution show in 2009 and 2010, with whom I performed in LA, Germany, Hungary and Marocco.
I have a bellydance school in Amsterdam called, Heartbeat of Bellydance in my own Heartbeat Dance Studio. I am the organizer of the international bellydance festival Orientalicious in Amsterdam.
Most of all I love teaching and it makes me really happy to see how my students evolve. I love to inspire them and give them more understanding of the art of Raqs Sharqi.
Being a coach of dancers and helping them to grow in their dance is my mission. To be able to teach about the drumsolo and coach as many dancers at the same time I created the online course "Create Your Amazing Drumsolo", accompanied by the great percussionist Yassir Jamal and filmed by Avi Has.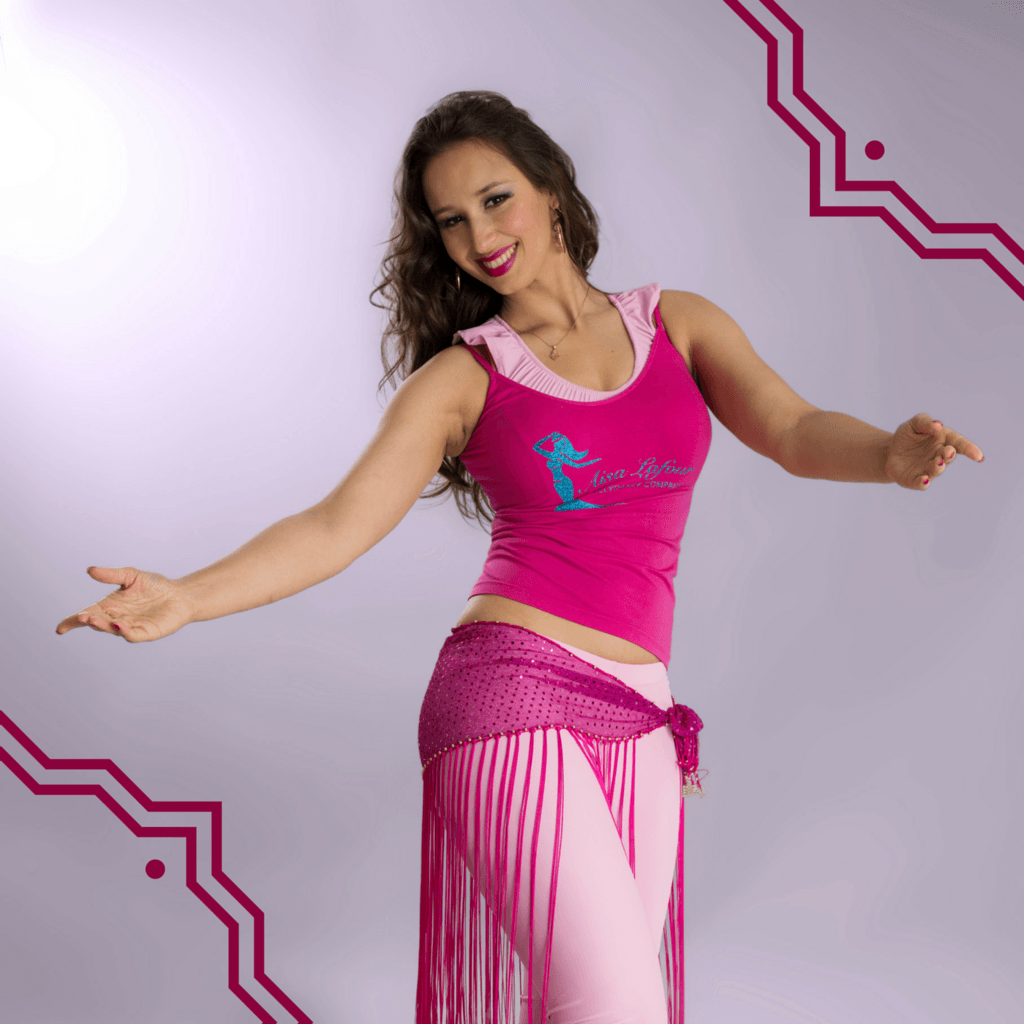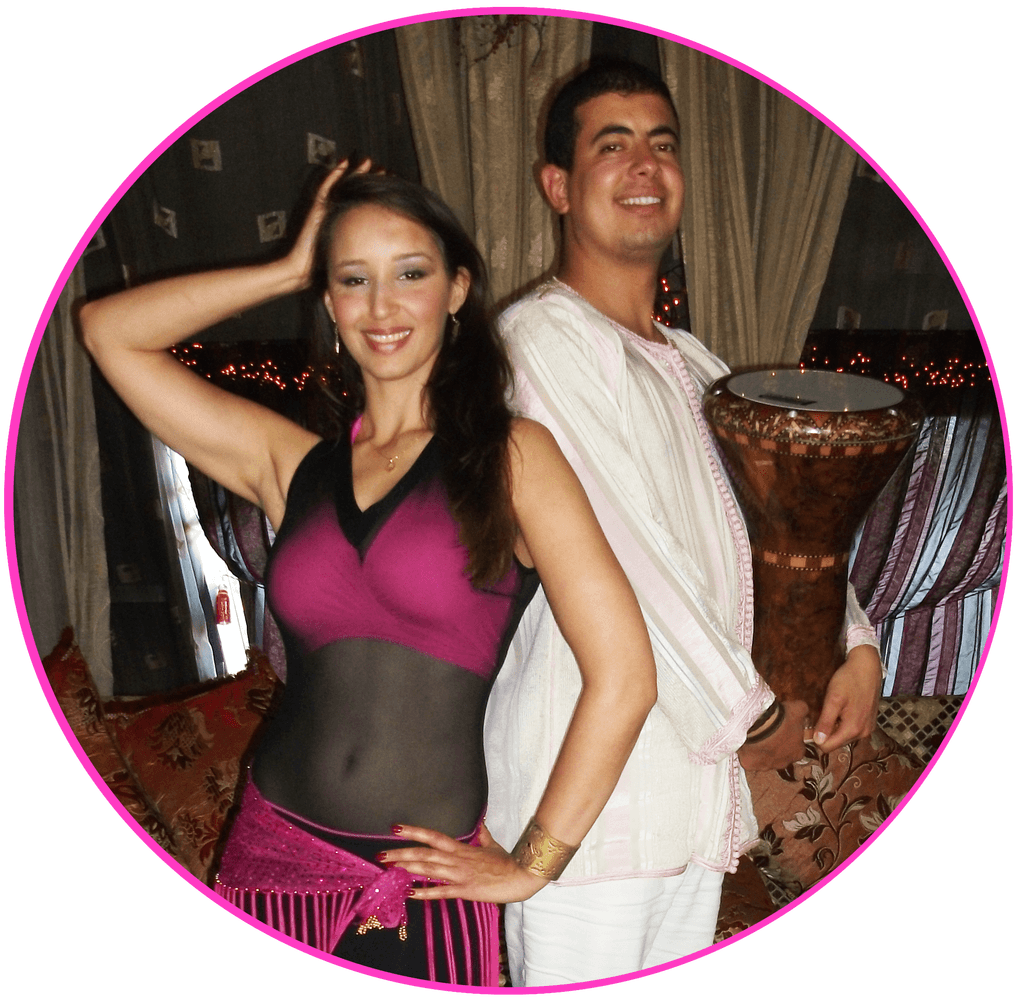 Percussionist Yassir Jamal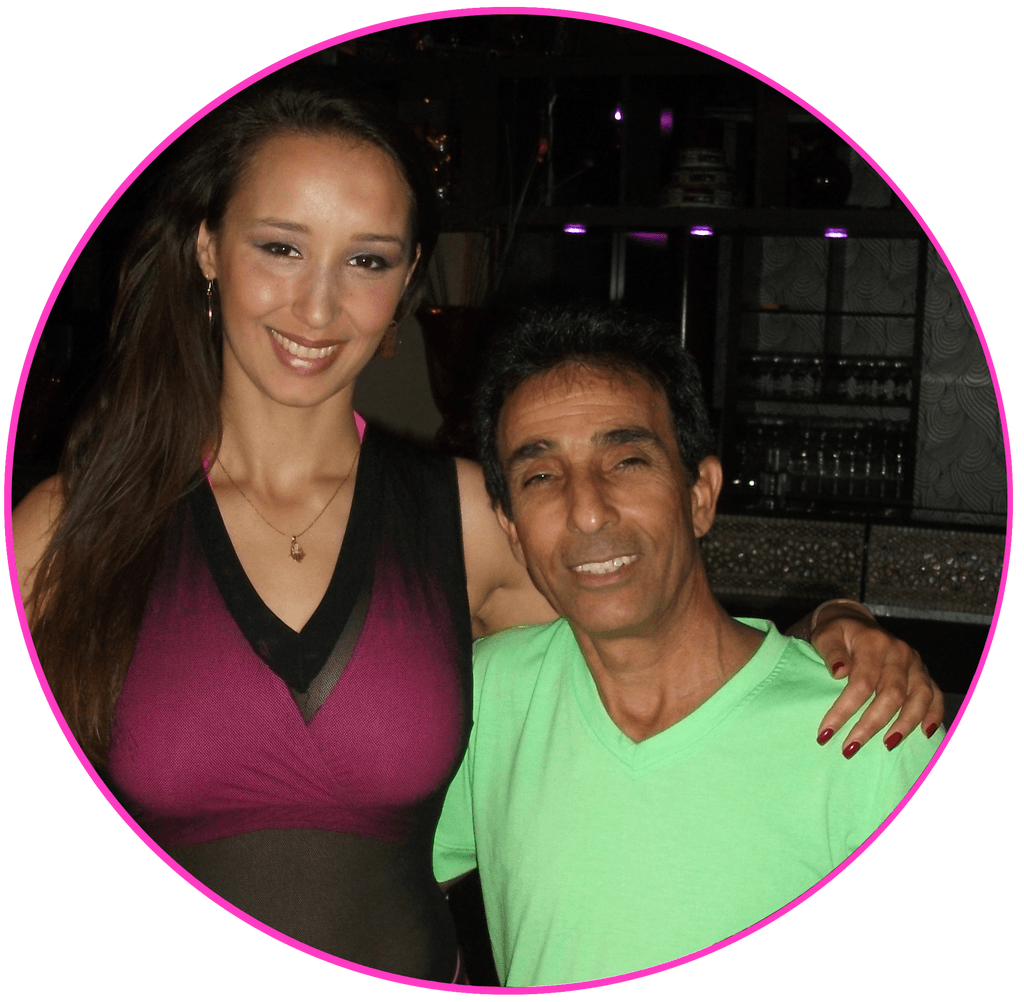 What is the Create Your Amazing Drumsolo course?
CYAD is a 10 week online program
Every week you get a new class in the online membership website
Each class has a theorytical and a practical part
The course has pre- recorded video's, a printable workbook, quizes, a community and live online Q & A meetings
The 5th class is a full live online class
At the end of the course you get a certificate of participation.
This is what you will learn at C.Y.A.D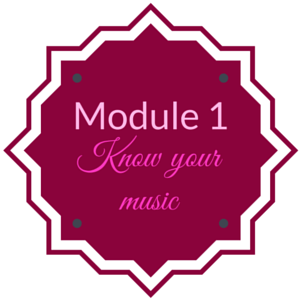 You will learn how to analyze the drumsolo music and structure. Because "If you can sing it you can dance it"! You will get a roadmap on which you can build your analysis. We will also talk about the 2/4 rhythms and how you dance to it.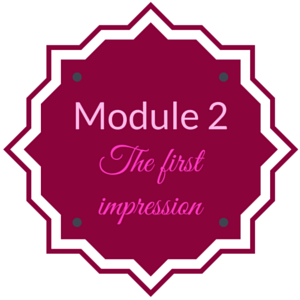 In this class you will learn about entrances and the use of the stage, how the decision that you make about how you enter the stage sets the athmosphere of your performance.  You will start to choreograph your entrance, of the music that you have chosen.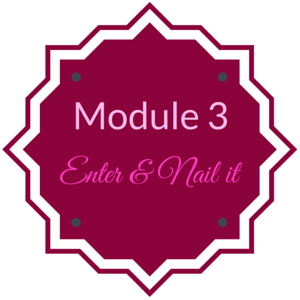 You will learn about 3 Egyptian 4/4 rhythms, their characters and how you can dance to them. We will analyze the 4/4 Basic rhythm section of our music and you will start to choreograph that section.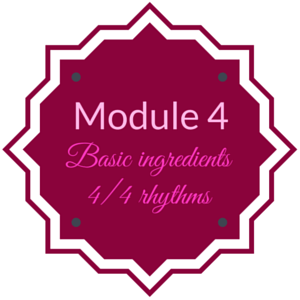 In this class you will learn about the pattern section, what it is, how you can write them down and how you can dance to it. There will be many technique drills to help you improve your dancing skills.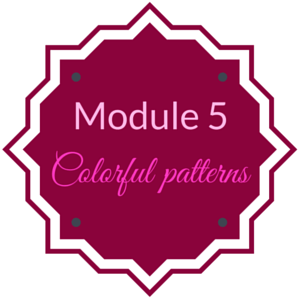 Week 5 is an implementation week. That means that you get time to to implement all you have learned so far and there will be special attention to your questions in a live Q & A session.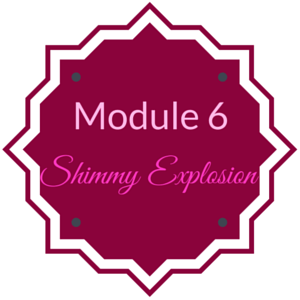 In this class you will learn about the 3 most important 8/4 rhythms, how you can recognize them and how you can dance to it. In the practical part of this class we go through a whole range of shimmies. We will do a lot of practice of the rhythms and the different shimmies.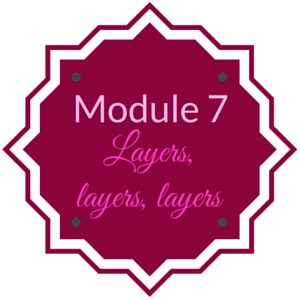 In this class you will learn about Layering movements. It is the art of combining 2 or 3 movements together. And of course there will be a lot of drilling and exercising for the layers going on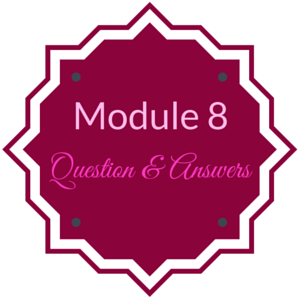 In this class you will learn about the Question and Answer section. It is the most communicative part of the drumsolo in which the drummer can challenge the dancer but the dancer also can challenge the drummer.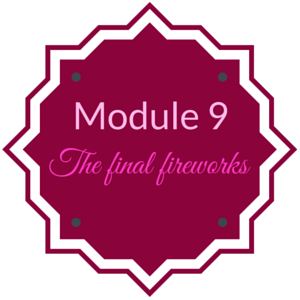 In this class you will learn about the folkloric section that you can find in many drumsolo's. A drummer can take you to another atmosphere by playing a Saidi, Khaleegy, Zar/ Ayub or a irregular rhythm Samai or Turkish Gypsy 9/8, for you.  You will learn about this rhythms and what steps fit to them.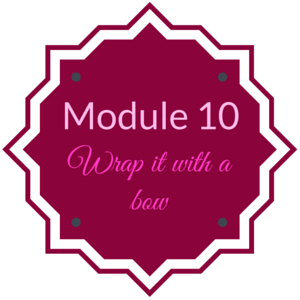 In the last class of Create Your Amazing Drumsolo we will talk about the endings. The Finale is one of the most important parts of your drumsolo. It is the last impression that the people will have have from you. Also In this class you will have the opportunity to dance to a full drumsolo of Yassir Jamal.
Price
€197
(Price includes 21 % Tax)
Full 10 – week program
Video's, live stream classes, workbook, quizes
Community with like minded dancers.
Livetime access (as long as the program runs)
Bonusses
Exclusively Participants of CYAD can run for an online audition for the Orientalicious Gala show on June16th
<span class="popmake-terms pum-trigger">Terms and conditions</span>


14 days money back guarantee
Within 14 days after the start of the program you can claim your money back for 100% .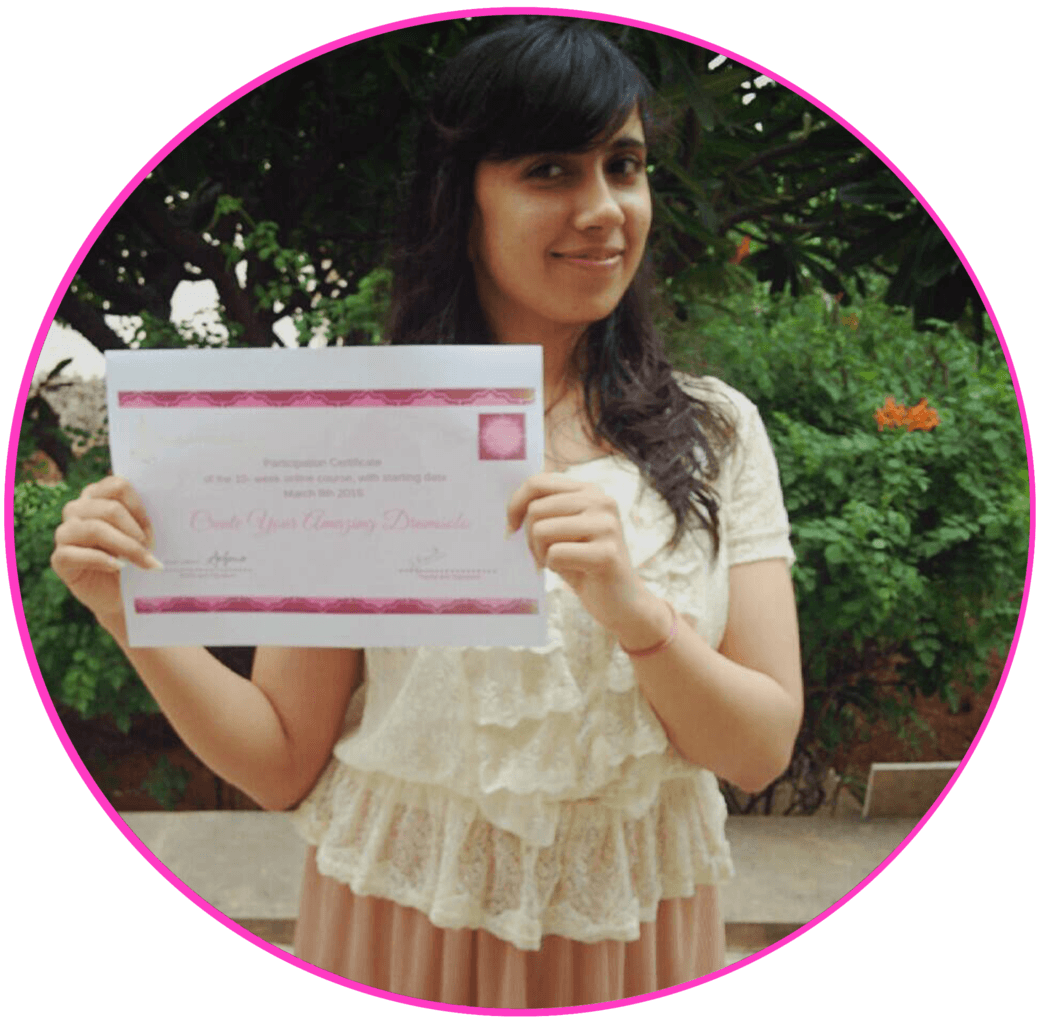 Thank you! an amazing course! Although I had already lots of workshops with Finger cymbals and darbuka, I want to say that as many as you can get as more sure you are about that you have learned! The quiz for the rhytms is perfect, is one useful way (I THINK THE MOST USEFUL I'VE SEEN ALL THE YEARS I DANCE) to learn and to remember, cause the most dancers have the same problem, not to remember the music like the one who plays the darbuka but to remember as the one who dances it!
Also the dancing lesson is helpful, to create different routines, for excercising and to get the inspiration how to use the rhythms to our music creation!
Thank you once again 🙂
This course is a gift to yourself as a belly dancer. Aisa has a lot of attention, love and expertise in a structured online learning series. Each module has a clear theme in which you learn about the different parts and points of a drum solo. Both theory and practice are discussed in varied and surprising methods. For example, you learn by listening exercises to recognize different types of rhythms. Because Aisa really put a lot of effort in this course,  it takes time to keep up with everything each week. But that is definitely worth it! And because it is an online course you have the freedom to follow a module when it suits you. This course is highly recommended!
I've already recommend it to my bellydance colleagues here in Portugal. This program still is very important in my studies, because i access it whenever I have a doubt or need some inspiration to coreograph. Now i see & appreciate drum solos in a totally different way and I am not so scared any more to dance them. I'm really grateful for this course, it gave me the suporte i need to improve & struture my dance.
Aisa, I would like to tell you how important this course is being for me… You've shared so much content, love & inspiration In these weeks!!
I'm so grateful for all your sharing, which made me certainly grow up and made my dance so much better!!
It's really an huge honor to having you with me through this jorney!!! Thank you!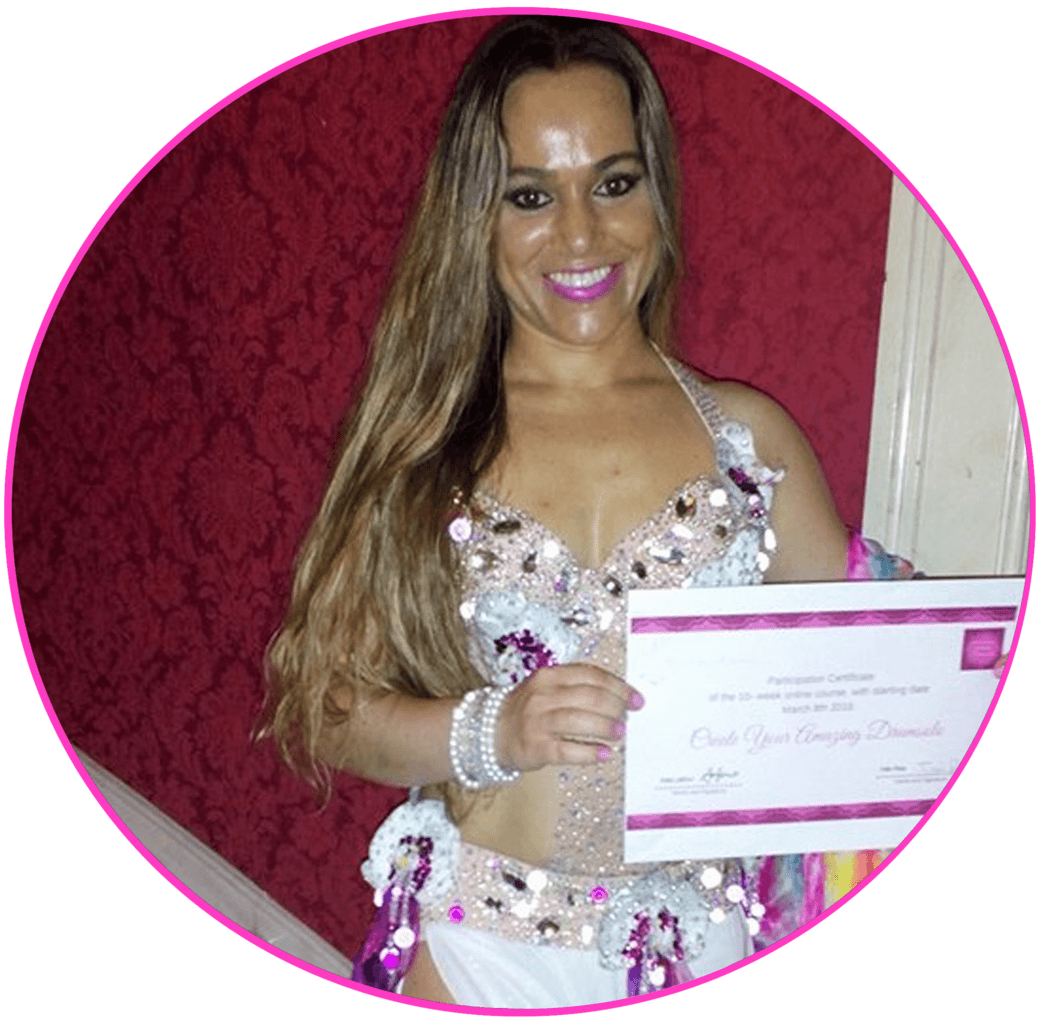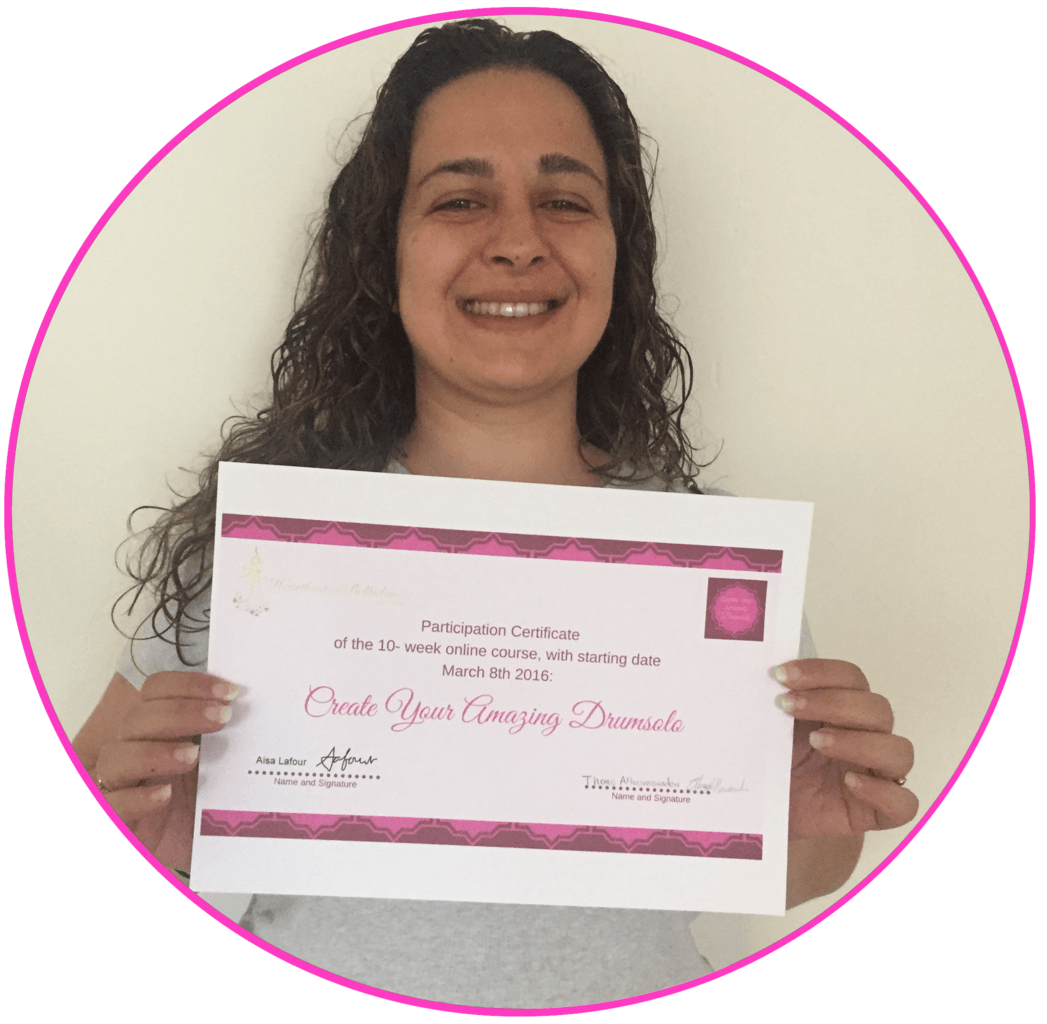 Create your own amazing drum solo (CYAD) by Aisa Lafour, is a course I've been waiting for for a long time!! I am always amazed when watching drum solo's where dancers can show off their technique, musicality and connection to the rhythms, but had no idea of how to go about creating one!  Finally with CYAD everything became more clear! Combining theory and practice, Aisa not only breaks down all the rhythms, and teaches moves that go well with each, but also teaches the structure of a drum solo, its different sections, entrances, exits, staging and stage presence! Now I have all the tools I need to tackle the drum solo, and had lots of fun doing it as well !
I can't thank you enough for educating me on such a wonderful topic or subject of bellydancing. This course has taken my musicality knowledge of bellydancing to a higher level for sure. Infact i was searching for something like this since a very long time so I am very Happy. One of my favorite topics was the shimmies explosion and also the Egyptian shimmy challenge at the end of each class, all my friends love my shimmies now. There has been a lot of improvement in my shimmies. It was a real pleasure to study with such an amazing group of bellydancers from all over the world. I always felt very incomplete in terms of learning because i was not really taught about musicality in my country. I am definitely looking forward to do more courses with you in future.
Under the coaching of Aisa Lafour I experienced a lot of succes this year. Aisa is a sincere, strict and objective coach. Her strong musicality and international experience as bellydance jury make her a perfect coach to prepare bellydancers for high level competitions. Aisa's method helps you to identify what is the best choice concerning dance style, music, costume, attributes, expression, etc. For all that I thank Aisa for guiding me and for showing me the way to succes! This year I became Benelux Bellydance Champion 2014!
The course "Create Your Amazing Drumsolo" was really very valuable and helpful for me. It helped me a lot in developing a good understanding of Rhythms used in Drum solo music and a lot of other amazing things which has taken my dancing skills to a higher level. Thank you very much for always being so sweet and helpful from the very starting of the course. The most helpful topics for me were learning all the important Rhythms, folkloric section, layer drills, shimmy layer exploration sheet, entrances and uses of the stage. I think it has helped me a lot in creating my own choreograpies.
Highly recommended for anyone who wants to add depth to her dance. Aisa is a good teacher who wants to share her knowledge and experience with a lot of enthusiasm and very accessible. This program is a valuable addition to the practical lessons in your own dance school. You learn to analyze and understand music and create your own choreography (and you get lots of valuable advice and practical tips).
Frequently asked questions
Is the course just useful for creating drumsolo choreographies or can I as well use the knowledge for other bellydance styles?
This course is focused on dancing to drumsolo's, but the information you get, is adaptable to create choreographies or do improvisations in other bellydance styles as well.
What kind of rhythms do you talk about and can I use that knowledge also for other choreograpies?
I talk about the basic 2/4,  4/4 and irragular rhytms, the ones that are most common in arabic classical and folcloric music. You can find those in Raqs Sharqi, Samai, Shaabi, Baladi, Khaleegy, Zar  Arabic pop songs etc.
Is it possible to start later than the start date? Even if the program has already started?
The strength of this program is that the whole group starts at the same moment, so we can help and support eachother and grow together. You always have access to the classes so you can do the class whenever and where- ever it fits to your schedule.
Can I subscribe after the start date of the course?
The advantege of this course is that we start all at the same moment. So subscription goes until the start of the course, not after.
I get a livelong access to the program but can I ask livelong questions too?
From the start date of the course you can ask your questions by email for 11 weeks after the start date or even better at the Facebook community livelong. I answer the questions either in a Live Q&A session or in the Facebook community so everybody can learn from the answers. There are always the other students in the Facebook community to help you too!
I have a very busy life, how can I integrate the program in my schedule?
You always have access to the classes so you can do the class whenever and where- ever it fits to your schedule, and at your own pace.
What payment options do you have?
On the website you can checkout with IDEAL and PayPal. In case you can't pay by Paypal or Ideal, just contact me at info@aisalafour.com for bank details.
Can I do a spread payment option on the course?
It is a one time payment. So there is no spread payment option.
Is the package price including or excluding taxes?
The price is including 21% taxes.
If I feel that this course is not for me, can I claim my money back?
Yes you can claim your money back for 100 % until 14 days after the start of the program.
Price
€197
(Price includes 21 % Tax)
Full 10 – week program
Video's, live stream classes, workbook, quizes
Community with like minded dancers.
Livetime access (as long as the program runs)
Bonusses
Exclusively Participants of CYAD can run for an online audition for the Orientalicious Gala show on June16th
<span class="popmake-terms pum-trigger">Terms and conditions</span>


14 days money back guarantee
Within 14 days after the start of the program you can claim your money back for 100% .
Early Bird Bonus ends in: