Let's dance together, and train our Shimmy's and Layers's!
You know that training is the mother of exellence!?
Training your dance technique regularly is the only way to become a very skilled dancer. But I know that it's hard to train your dance technique like shimmy's and layers on a daily base, alone.  To master your skills to impress your audience with your dance there is no other option than training.
You love to train at home but only when there is someone who tells you what to do, or who is dancing along with you? I know… I feel the same. I love to have a teacher or a buddy to do my trianing with.
That's why I decided to create this Shimmy and Layer training bundle. So you and me can train together and become better dancers, look better and feel better, so you become more successful in your dancing. This way training becomes much more fun.
Enjoy training your Shimmy's and Layers from the comfort of your home.
Dance whenever, where- ever you want, you just need an internet connection.
Discover new muscle groups and master new skills.
Save time! You don't need to travel to go for a dance training.
Get more body awareness and confidence.
Reach a better level of dancing.
Experience the freedom of practicing with your Laptop, computer, tablet or phone. You can even practice in your workbreak.
Unlimited access as long as the program runs.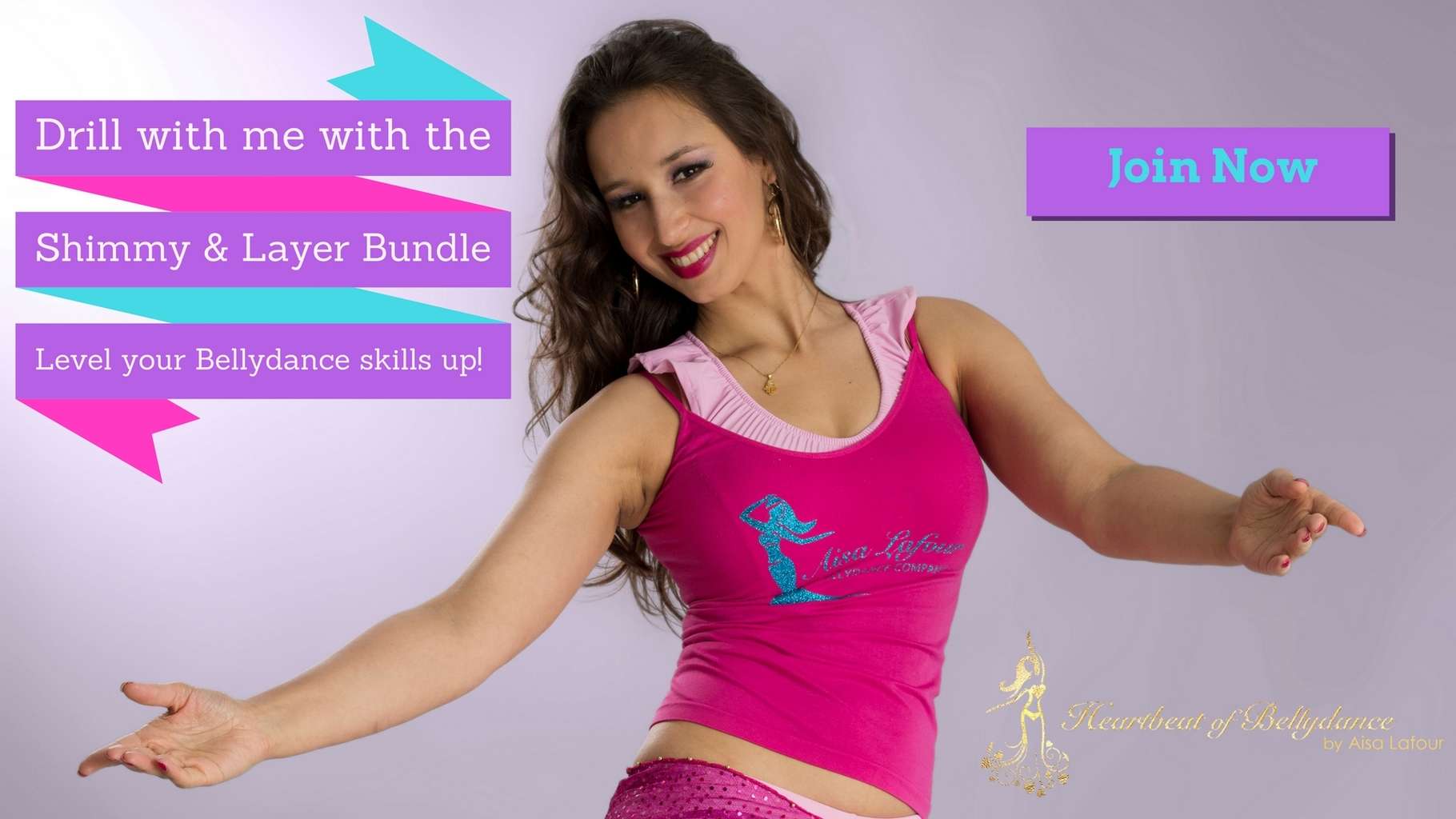 I can't thank you enough for educating me on such a wonderful topic or subject of bellydancing. This course has taken my musicality knowledge of bellydancing to a higher level for sure. Infact i was searching for something like this since a very long time so I am very Happy. One of my favorite topics was the shimmies explosion and also the Egyptian shimmy challenge at the end of each class, all my friends love my shimmies now. There has been a lot of improvement in my shimmies. It was a real pleasure to study with such an amazing group of bellydancers from all over the world. I always felt very incomplete in terms of learning because i was not really taught about musicality in my country. I am definitely looking forward to do more courses with you in future.
I decided to pick Aisa as my teacher because I love her style and her performances and videos really inspire me.
I really enjoyed my online belly dance class with Aisa. I was a bit skeptical about a dance lesson online at the beginning, but I have to say that it exceeded all my expectations. First it was really relieving to take a lesson from the comfort of my own living room, without having to waste time in traffic and returning home late and tired. As long as you have a good internet connection, an online class is as efficient as a "real" class. Second, Aisa is an excellent teacher. She makes you feel comfortable and gives you a lot of encouragement during class.
This course is a gift to yourself as a belly dancer. Aisa has a lot of attention, love and expertise in a structured online learning series. For me it's the perfect opportunity to keep practicing, as i can't find suitable dance classes in my city and with all the traveling I do for work i am not super excited about traveling too much for classes. Because it is an online course you have the freedom to follow a training when it suits you. This training bundle is highly recommended!
I decided to pick Aisa as my teacher because I love her style and her performances and videos really inspire me.
And I did a very good choice!  She helped me a lot in taking control of all movements. She's very clear in the explanations and she pays attentionat all details. I love her commitment and she transmits this to the pupils as well – which is so inspiring.
Frequently asked questions!
Can I subscribe after December 20th?
Yes absolutely but the offer of 36 euro's will be gone. The special offer is until December 20th 23:00 PM GMT +1
I get a livelong access to the program but can I ask livelong questions too?
If you purchase the training bundle you can your questions in the Heartbeat of Bellydance Facebook group. I answer the questions either in a Live Q&A session the Facebook community or under your post.
I have a very busy life, how can I integrate the program in my schedule?
You always have access to the classes so you can do the class whenever and where- ever it fits to your schedule, and at your own pace.
What payment options do you have?
On the website you can checkout with IDEAL and PayPal. You can also go for the payment plan. In that case you can use automatic payment.
Is the package price including or excluding taxes?
The price is including 21% Dutch tax.
If I feel that this course is not for me, can I claim my money back?
Yes you can claim your money back for 100 % after until 14 days after your purchase.
Become a more skilled dancer, discover and master new muscle groups and impress your audience with your great level of dance.