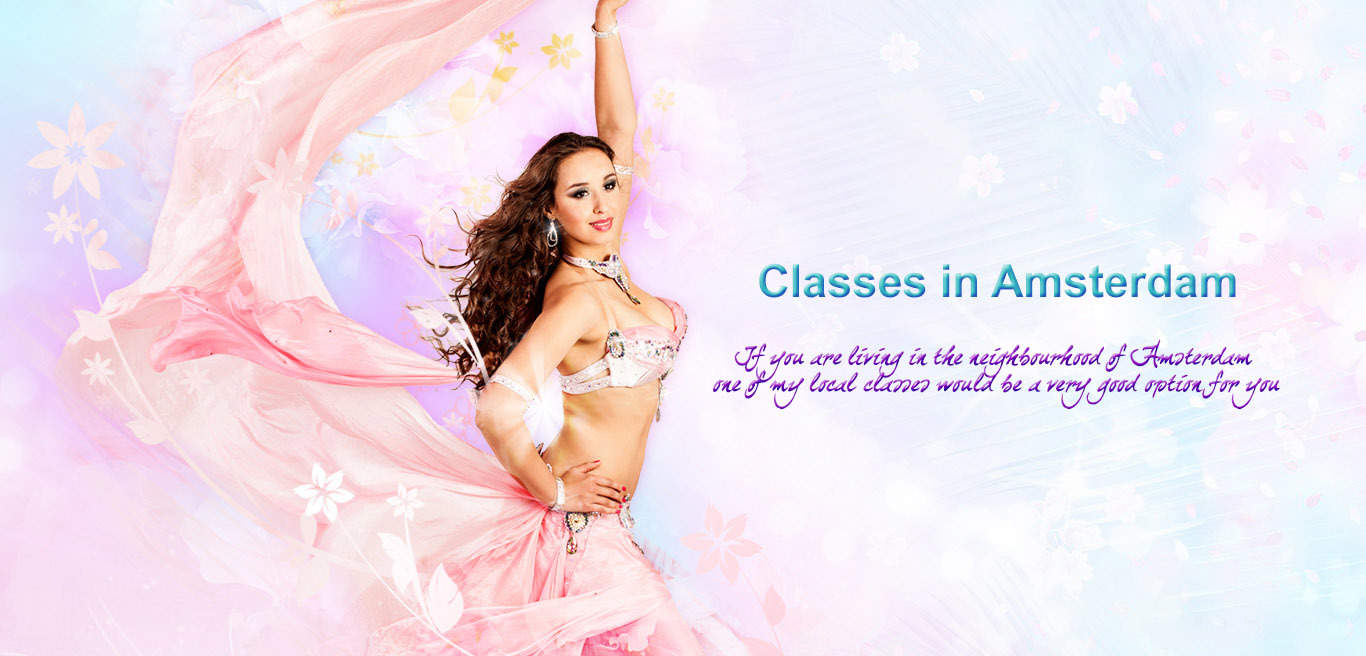 American Tribal Style® Belly Dance (ATS®) is a modern style of dance created by the FatChanceBellyDance® director, Carolena Nericcio-Bohlman, in San Fransisco, California. It is a group improvisational style of bellydance where the dancers share a vocabulary of moves and cues that allow them to dance and improvise together in various formations without choreography! Dancers that know the ATS(R) language can go anywhere in the world and start dancing with strangers sharing that vocabulary as if they had rehearsed together, which is truly magical, and creates a truly international dance community. Apart from the dance itself, the costuming is unique and beautiful, featuring long flowing skirts, shawls, cholis, coin bras, beautiful headdresses and impressive jewelry. In this introductory level 1 course, we will focus on the foundations of the ATS technique and style (strong posture, formations, leading and following) , and learn the basic slow and fast moves on which the rest of the ATS vocabulary is built! By the end of the course, you should be able to use the basic moves to lead and follow in dance formations and improvise with your fellow students! You will also build strength, confidence, grace and a sense of community and joy in dancing together!
This video is from the original founders of the ATS style: FatChanceBellyDance®
About your teacher:  Themis Athanassiadou
My name is Themis and I come from Cyprus. During the past 6 years I have lived in the US,
Switzerland and now the Netherlands, and one thing that made the transition to these countries
easier was tribal fusion bellydance. Even when i couldn't speak Italian or Dutch, I could always find
people who speak tribal and ATS in particular, which is a truly universal dance language!
I started serious studies of Tribal Bellydance in Tempe, Arizona at Plaza Studio, a great welcoming
place of all styles of bellydance. For two years i took classes in Egyptian style with Amanda Rose,
American Cabaret with Helena Vlahos, Anaya Tribal ITS, and ATS with Lenay and Jordan of
Kamalah tribal. I joined the troupe Divine Chaos tribal, dancing tribal fusion skirt, which is my
passion.
After relocating from Arizona I found myself in Switzerland, and I continued my studies in tribal
fusion with Francesca Gigante. Under her tutelage I explored many style of tribal and oriental
fusion and was selected to perform in Milan with Illan Riviere and Francesca Gigante at a tribal
bellydance production of Dante's The Divine Comedy, produced by Francesca Pedretti.
And again, due to work, I relocated last year to the Netherlands, where I am still taking oriental
classes with the amazing Aisa Lafour, but starting to explore my own artistic style. With my dance
partner Sabien we formed the fusion duo The Macadamias, which were selected in the Next Level
in 2015 and Factor Co in 2016 by the Shimmy Shake festival.
In 2016 I obtained my ATS General and Modern Certification by Carolena Nericcio and Megha
Gavin, and hope to get my teacher certification at the next available opportunity.
During the years I have tried to deepen my understanding and diversity of this dance form by
taking many workshops from acclaimed teachers such as Rachel Brice, Mardi Love, Illan Riviere,
Piny Orchidaceae, Tjarda, Ashley Lopez, Elizabeth Strong and many others.
Heartbeat of Dance studio
Nieuwe Kerkstraat 126A, Amsterdam
Level 1: American Tribal Style
No bellydance experience required. In this level we will build the foundations of ATS: Posture, arm positions, leading and following, and group formations. We will break down and drill four basic slow and four basic fast movements, which are the building blocks of the ATS vocabulary.
Level 2: American Tribal Style
For dancers who have completed Level1, or have a mastery of the triplet zill pattern and 3/4 shimmies. We will start building the movement vocabulary of classic and modern ATS, and gain more confidence in leading, following and dancing together as a group. Note: It is recommended to take Level 1 concurrently, to keep refining basic technique. ( Bring your zills!)
A single class costs 15 euro incl. 21% VAT (btw). Do it as often as you want. To order a single class please click the button below.
A 10 week course costs 115 euro incl. 21 % VAT (btw). The class duration is 60 minutes. to order the course please click the button below.
A 10 week course costs 115 euro incl. 21 % VAT (btw). The class duration is 60 minutes. to order the course please click the button below.
Level 1 + 2 costs 185 euro incl. 21 % VAT (btw). The class duration is 120 minutes. to order the course please click the button below.
What To Bring To The Class?
Wear comfortable clothing like yoga pants or leggings, and a form fitting top so it's easy to see your movements. You are welcome to wear a hip-scarf, belt, or a 25 yard skirt if you have it.
May:
1st  intro free class , 1hr only
22nd
29th
August:
7th
14th
21st
28th